Accents in Cleaning, Tile and Grout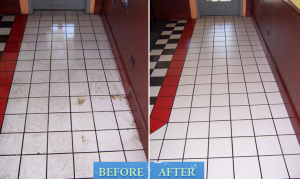 Carpet cleaning is a wonderful boost for the whole family.  Everyone loves a clean carpet.  Clean carpets just make you want to sit on the floor and play a game.  Or, you might just want to have a party because of how clean and beautiful your carpet looks.  Yes, a clean carpet from Accents in Cleaning makes all the difference in the way you look at your home.
But, Accents in Cleaning does more than just clean carpets, much more,  But today we are going to zero in on our tile cleaning service.  You probably clean your tile floors and the tile in your kitchen and bath about once a week,  If you're a stickler for a clean home, you may clean your tile more often than that.  The thing about tile is that no matter which tools you use, or what cleaning product you use, to get tile absolutely clean, you need a little more power than you can get from your favorite all-purpose cleaner and your trusty sponge and mop.  Sure, you can do a good job, but occasionally it is very smart to get what we like to call a "deep" clean.
Tile is slick.  When you pull a sponge mop across the floor, the dirt you are pulling has a tendency to get into the grout. You are pretty much just moving the dirt around.  There is also the problem with soap, water, grease build-up on the tile, and heel marks that no matter how much you try and what product you use, seem to taunt you instead of coming off.  Don't worry, Accents in Cleaning is ready to come to the rescue.
Many companies that clean tile use a pressure washer or, perhaps, steam to cut through the grime and haze. These methods can be not only be a bit messy, but they are also not as efficient as you might think. There have even been cases of tile be damaged using one of these methods.  Again, we told you not to worry, we can help you with your tile.
We use our basic, tried and true Rotovac.  Yes, it can be used for tile as well as carpet.  The reason we like to use Rotovac on tile is that it incorporates a combination of rotary nylon bristles on its cleaning brush and a spray jet to thoroughly clean both the tile and grout.  The reason the spray jets do such a great job is that they can spray heated or unheated water, whichever the job calls for.  The water emitting from the jets comes out with high, but safe, pressure.  So, you have the brushes rotating and the soapy heated water working together to scrub and wash the tile.  Then, there are vacuum slots that suck up the water, the grime, and the grit.  The results will impress you because the cleaning we give you ends with sparkling tile, and deeply clean grout; just like it was when it was first installed!
Call us today or fill out our Free Estimate Request to get a quote. We look forward to providing you with excellent tile-cleaning service.  And don't forget, we do carpets, upholstery,and  automobile interiors
---